About Kerala Houseboats
Kettuvallom (House Boat) is a country boat that was used in the early days for the transport of goods from the isolated interior villages to the towns. With the advent of roads, bridges and ferry services, gradually the Kettuvalloms went off the scene. Now these kettuvalloms are back again as a major tourist attraction. A ride on a Houseboat is a fabulous way to explore the fascinating beauty of the backwaters.
 Explore Alleppey Backwaters

 Explore Kumarakom Backwaters

HouseBoat:
The Houseboats of Kerala ( earlier known as rice barges or kettuvallams ) are giant country crafts, measuring up to 80 feet in length, retrieved from being lost to the State altogether. Once they ruled the backwaters, poled along by one or two men, heavily loaded with rice, coconut and other commodities. But in the recent times, the kettuvalloms or rice barges have been replaced by more and modern modes of transport, relegating them to neglect and decay. The materials that go into the making are local and ecofriendly; bamboo poles, coconut fibre, ropes, bamboo mats, carpets etc. The main wood used is "Anjili". There are houseboats with fully furnished single room, double room and triple rooms. All of them have sundeck, private balcony with comfortable chairs, kitchen and toilet with w.c. In addition there is a separate rest room for the crew. Traditional lanterns are used as lights. The crew includes a chef, and two oarsmen. The cuisine is of traditional Kerala flavourAlongwith the local specialties; delicious fish and prawns. There are single bedroom houseboats for two people and two bedroom houseboats for four people.
A glide in a "Kettuvallam" (Houseboat) through the enchanting backwaters of Alleppey is sure to rob your heart. Palm fringed narrow canals winding through the vast expanse of paddy fields and the neat tiny hamlets lined up along either side of the canals are panoramic sight one can never forget.
The houseboats of Kerala have become one of the most exciting tourism products in India.   Today there are A/c and Non A/c house boats with with Deluxe and Luxury facilities.  The houseboat holidays of Kerala are increasingly becoming popular with domestic as well as international tourists.  Consequently, the number of houseboats plying the backwaters of Kerala have increased dramatically.  So inorder to evaluate the safety and service standards of houseboats and classify them accordingly, the Government of Kerala has conceptualized a scheme to grade the existing house boats which maintain the quality standards into Gold and Silver Star categories and also to give Green Palm certificate as a symbol of eco-friendliness to those house boats which adopt environment friendly practices in its operation.
Kerala Houseboat Facilities
Typical facilities include:
*Double rooms in a two room- apartment houseboat
*Sitting room, and small Sundeck
*Attached bathroom with European Toilets
*Common living area
Most houseboats are single or double roomed and sleep 2 to 4, tho the most romantic sleeping space is under mosquito nets on the small sundeck waking with the dawn and the distant call of the temples and churches that dot the backwaters.
All your food is cooked for you by the crew and combines local fish such blackspot, tiger prawns and scampi as well as curried dishes, daal and rice.
The rhythm on the boat is slow like the pace of life on the backwaters as you navigate through the narrow waterways watching Indian village life in a constant moving panorama before you.
A fleet of Houseboats contains :
1. One bedded accommodation
2. Two bedded accommodation
3. Large boats for families.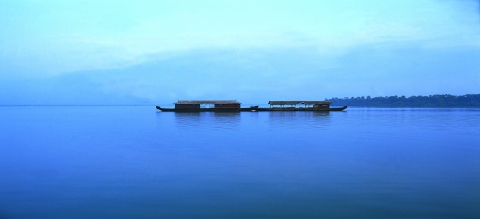 Kerala Houseboat Attractions
The Backwaters of Kerala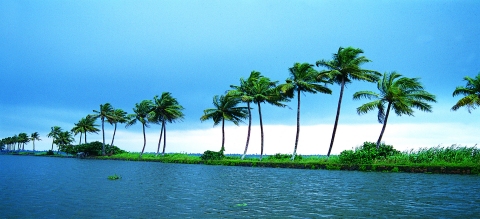 The Backwaters of Kerala is unique and is found nowhere else in the world. Backwaters are a network of lakes, canals and estuaries and deltas of forty-four rivers that drain into the Arabian Sea. The backwaters of Kerala are a self supporting eco-system teeming with life. The canals connect the villages together and are still used for local transport. Over 900 km of this labyrinthine water world is navigable.Alleppey (new name Alappuzha) and Kumarakom  are the prominant Backwater tourist attractions in Kerala.
Kuttanadu is the one rare places in the world where farming is done below sea level (1.5 -2 meters below sea level). Inland waterways that flow above the land level is an amazing feature of this land. Kuttanad lies in heart of the backwaters of Kerala. This beautiful countryside with its waterways also is rich in crops like rice, banana, Cassava and yam.
The most exciting aspect of Kuttanadu is the Kettuvallam (traditional Houseboat) which has become the most popular tourism product in India today. In a land as water bound as Kerala it wouldn't be an unusual sight, but for a visitor to God's Own Country a houseboat gliding along the vast green expanse of the backwaters is the most amazing spectacle in the world. Even more enchanting is a holiday in the houseboats of Kerala.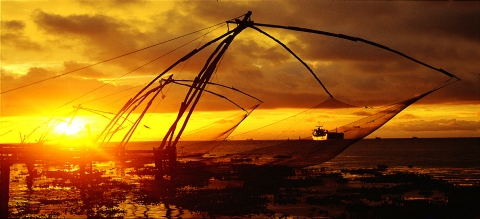 A cruise along the palm-fringed waterways of Kerala in a luxury houseboat is the most enchanting holiday experience in India today. In a world gifted with beauty, you will skim past ancient Chinese fishing nets, water lilies, lush paddy fields, coir villages, rustic homes, temples and coconut groves. A guided tour down the backwaters would provide you with a complete and most enchanting experience on the back waters of Kerala and will also reveal to you some interesting facts about the life of local village people. There is a Kerala that lives along these backwaters throbbing with its own unique culture. For you, as a visitor to Kerala it can be incredibly different and unusual experience just floating in the backwaters in a country craft.

Alleppey is a centre for houseboat cruises. Traditionally, the houseboats were called Kettuvallams, which means a boat made by trying together pieces of wood. Unbelievable as it may sound, not a single nail is used in the making of a Kettuvallam. Jack wood planks are joined together with coir rope and then coated with black resin made from boiled cashew nuts shells.
It contains well furnished & bath attached bed rooms, sun bath-deck, lounge cum dining room and a hygienic kitchen. In the royal kitchen, we prepare delicious Kerala food. Two boats-men and an expert cook will retinue your trip , for making your trip more comfortable, we have provided modern facilities like electric lights, fans, European style bathroom and showers etc in the boat. When this palace glides along the vast green expanse of back waters you can experience the most exciting spectacle of the world. The rice fields, villages, lush green shores amaze your sense of beauty. In the nights, the cool, calm and breezy atmosphere makes your moment unforgettable.